Research Area:

Biotecnologie Mediche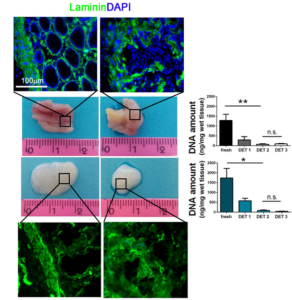 NanoInspired biomedicine lab focuses on:
• study of the genetic and molecular characterization of cancer with a concentration on the genetic pathway involved in the progression and outcome of colon cancer as well as drug delivery system modulation;
• discovery of new molecular markers for the non-invasive (liquid biopsies) early detection of cancer, and identifying the roles of circulating molecular markers in pathologic tumor responses and rectal cancer patient outcome after receiving preoperative chemoradiotherapy (i.e. circulating cell free DNA (cfDNA), circulating miRNA, proteins, metabolites, circulating cell free RNA);
• decellularized colorectal cancer matrix as bioactive microenvironment for in vitro 3D cancer research. Aims: i) to standardize a decellularization protocol for the healthy colonic ECM and CRC counterpart, able to eliminate the cellular component but simultaneously maintains its structure, biochemical composition and biological properties; ii) to characterize the decellularized healthy colonic mucosa and CRC ECM by analyzing the main structural components, its three-dimensional organization and the proteome and secretome composition; iii) to verify whether the CRC ECM possesses different biological properties compared with healthy colonic mucosa by means of recellularization experiments with stabilized CRC cell lines;
• application of biomimetic proteolipid vesicles, called Leukosomes, for targeting inflamed tissues. Explored the application of these biomimetic particles to several diseases that share an inflammatory background, such as inflamed bowel disease, atherosclerosis, primary and metastatic cancer, and autoimmune diseases;
• study of the interaction between 5 fluorouracil and catechins (epicatechin, epicatechin 3-gallate, epigallocatechin and epigallocatechin gallate) present in green tea extracts (GTEs) by mass spectrometry to identify possible natural substances as adjuvants to classic chemotherapy treatments in CRC patients;
• bio-analytical methods development and validation following FDA/EMA guidelines for targeted analysis of lipids, proteins/peptides, drugs (PK and TDM), and metabolites by mass spectrometry.
Group Members
Sara Crotti PostDoctoral Researcher
Edoardo D'Angelo PostDoctoral Researcher
Francesca Sensi PostDoctoral Researcher
Laura Moracci Research Assistant
Riccardo Rampado PhD student
Pietro Traldi Emeritus Professor
Selected Publications
Recellularized Colorectal Cancer Patient-derived Scaffolds as in vitro Pre-clinical 3D Model for Drug Screening. Sensi F, D'Angelo E, Piccoli M, Pavan P, Mastrotto F, Caliceti P, Biccari A, Corallo D, Urbani L, Fassan M, Spolverato G, Riello P, Pucciarelli S, Agostini M. Cancers (Basel). 2020 Mar 13;12(3):681. doi: 10.3390/cancers12030681.
Patient-Derived Scaffolds of Colorectal Cancer Metastases as an Organotypic 3D Model of the Liver Metastatic Microenvironment. D'Angelo E, Natarajan D, Sensi F, Ajayi O, Fassan M, Mam-mano E, Pilati P, Pavan P, Bresolin S, Preziosi M, Miquel R, Zen Y, Chokshi S, Menon K, Heaton N, Spolverato G, Piccoli M, Williams R, Urbani L, Agostini M. Cancers (Basel). 2020 Feb 5;12(2):364. doi: 10.3390/cancers12020364.
Tryptophan Metabolism as Source of New Prognostic Biomarkers for FAP Patients. Crotti S, Bedin C, Bertazzo A, Digito M, Zuin M, Urso ED, Agostini M. Int J Tryptophan Res. 2019 Nov 20;12:1178646919890293. doi: 10.1177/1178646919890293.
Reduced Plasma Levels of Very-Long-Chain Dicarboxylic Acid 28:4 in Italian and Brazilian Colorec-tal Cancer Patient Cohorts. Wood PL, Donohue MM, Cebak JE, Beckmann TG, Messias MCF, Cre-didio L, Coy CSR, Carvalho PO, Crotti S, D'Aronco S, Urso EDL, Agostini M.Metabolites. 2018 Dec 6;8(4):91. doi: 10.3390/metabo8040091.
Engineered biomimetic nanovesicles show intrinsic anti-inflammatory properties for the treat-ment of inflammatory bowel diseases. Corbo C, Cromer WE, Molinaro R, Toledano Furman NE, Hartman KA, De Rosa E, Boada C, Wang X, Zawieja DC, Agostini M, Salvatore F, Abraham BP, Ta-sciotti E. Nanoscale. 2017 Oct 5;9(38):14581-14591. doi: 10.1039/c7nr04734g
Contatti

Corso Stati Uniti, 4 F
35127 Padova
Phone: +39 049 9640111
Fax: +39 049 9640101
info@irpcds.org