Research Area:

Medical Biotechnology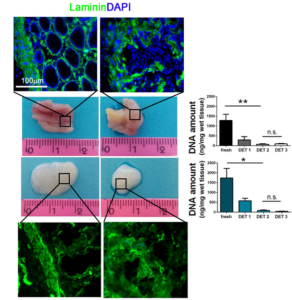 Dr. Agostini group is a well-established scientist in the field of colorectal cancer, solid cancers, focusing on the study of the genetics and molecular biology of the cancerous tissues.
His research focuses on:
1) study of genetic and molecular characterization of cancer with a concentration on the genetic pathway involved in the progression and outcome of colon cancer as well as drug delivery system modulation.
2) discovery of new molecular markers for the non-invasive (liquid biopsies) early detection of cancer,  and identifying the roles of circulating molecular markers in pathologic tumor responses and rectal cancer patient outcome after receiving preoperative chemoradiotherapy. (i.e. circulating cell free DNA (cfDNA), circulating miRNA, peptidome, circulating cell free RNA).
3) decellularized colorectal cancer matrix as bioactive microenvironment for in vitro 3D cancer research. Aims: a) To standardize a decellularization protocol for the healthy colonic ECM and CRC counterpart, able to eliminate the cellular component but simultaneously maintains its structure, biochemical composition and biological properties; b) To characterize the decellularized healthy colonic mucosa and CRC ECM by analyzing the main structural components, its three-dimensional organization and the proteome and secretome composition; c) To verify whether the CRC ECM possesses different biological properties compared with healthy colonic mucosa by means of recellularization experiments with stabilized CRC cell lines.
4) Application of biomimetic proteolipid vesicles, called Leukosomes, for targeting inflamed tissues. Explored the application of these biomimetic particles to several diseases that share an inflammatory background, such as inflamed bowel disease, atherosclerosis, primary and metastatic cancer, and autoimmune diseases.
Selected Publications
Chen J, Guccini I, Di Mitri D, Brina D, Revandkar A, Pasquini E, Alajati A, Pinton S, Losa M, Sarti M, Civenni G, Catapano CV, Sgrignani J, Cavalli A, D'Antuono R, Asara JM, Morandi A, Chiarugi P, Crotti S, Agostini M, Montopoli M, Masgras I, Rasola A, Escudero RG, Delaleu N, Rinaldi A, Bertoni F, de Bono J, Carracedo A, Alimonti A. . 2018. Compartmentalized activities of the pyruvate dehydrogenase complex sustain lipogenesis in prostate cancer.
Nature Genetics
, 50(2):219-228. doi: 10.1038
Corbo C, Cromer WE, Molinaro R, Toledano Furman NE, Hartman KA,
De Rosa E, Boada C, Wang X,
Zawieja DC, Agostini M, Salvatore F, Abraham BP, Tasciotti E.. 2017. Engineered biomimetic nanovesicles show intrinsic anti-inflammatory properties for the treatment of inflammatory bowel diseases..
Nanoscale
, 9(38):14581-14591
Piccoli m, D'Angelo E, Crotti S, Sensi F, Urbani L, Maghin E, Burns A, De Coppi P, Fassan M, Rugge M, Pierluigi P, Mammano E, Pucciarelli S, Agostini M.. 2017. Decellularized colorectal cancer matrix as bioactive microenvironment for in vitro 3D cancer research..
Journal of Cellular Physiology
, doi: 10.1002/jcp.26403.
Crotti S, Agnoletto E, Cancemi G, Di Marco V, Traldi P, Pucciarelli S, Nitti D, Agostini M.. 2016. Altered plasma levels of decanoic acid in colorectal cancer as a new diagnostic biomarker.
Anal Bioanal Chem
, 6321-8. doi: 10.1007
Agostini M, Janssen KP, Kim LJ, D'Angelo E, Pizzini S, Zangrando A, Zanon C, Pastrello C, Maretto I, Digito M, Bedin C, Jurisica I, Rizzolio F, Giordano A, Bortoluzzi S, Nitti D, Pucciarelli S.. 2015. An integrative approach for the identification of prognostic and predictive biomarkers in rectal cancer..
Oncotarget
, 6(32):32561-74. doi: 10.18632/
Contact

Corso Stati Uniti, 4
35127 Padova
Phone: +39 049 9640139
Fax: +39 049 9640101
info@irpcds.org