Elisa Cimetta BIAMET – NBTECH laboratories
Master Thesis student position available
A Master thesis student position is available in the laboratory of Prof. Elisa Cimetta to define how hypoxia influences physicochemical properties of exosomes produced by paediatric cancer Neuroblastoma (NB).
The research is funded by a Starting Grant from the European Research Council (ERC StG 2017).
Current research in the lab is focused on the development of microfluidic platforms to test the effects of NB-derived exosomes on target cells cultures and to elucidate the molecular mechanisms/signaling through which the microenvironment shapes Neuroblastoma aggressiveness and progression.
The laboratories are located at the Department of Industrial Engineering (DII), University of Padua and at the Fondazione Istituto di Ricerca Pediatrica Citta' della Speranza (IRP). The proposed activities will be developed at the IRP.
Students will be trained in advanced molecular, biochemical and cell biology techniques, and will work in a diverse team with engineers, biologists and biotechnologists.
Informal enquiries to elisa.cimetta@unipd.it
Elisa Cimetta – Phone: 0498275817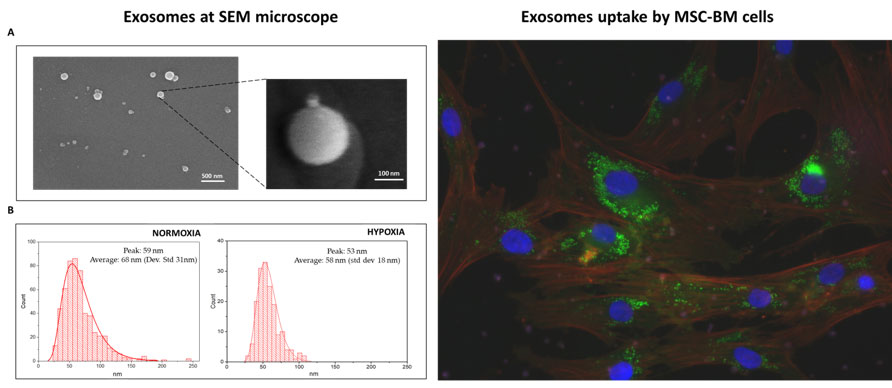 Calls for applications for Senior Post Docs.
Pediatric Research Institute (IRP) is an excellence center in pediatric medicine and research. Its six top research programs are focused on pediatric oncology, regenerative medicine, nanomedicine, genetic and rare diseases, immunology, and predictive medicine. The Institute adopts a unique multidisciplinary approach that blends ideas from biomedicine, bioengineering, biochemistry and materials science. It also strives to promote cooperation with national and international university hospitals and research institutes, to provide high-level training in pediatric research to students and researchers, to foster innovation and technology transfer, and to facilitate dialogue with the public through conferences and educational activities. IRP's main goal is to continue increasing the internal focus on research & innovation, leveraging on the developed know-how to stimulate the transfer of new technologies and therapies to the market.
More information about the Center is available at https://irpcds.org
Job Description
The Onco-hematology, stem cell transplant and gene therapy research unit- Director Prof. Alessandra Biffi together with the Molecular Genetic of pediatric leukemias group – PI Dr.ssa Martina Pigazzi  is seeking two Senior Researchers to advance the group vision on immunotherapy. The successful applicants will contribute to the synergy project Initiatives at IRP "Validation of NOVEL ANTIGENIC DETERMINANTS for the development of a CAR T CELL immunotherapy for pediatric ACUTE MYELOID LEUKEMIA".
Applicants should have completed a degree in biomedical sciences or human medicine (PhD or MD) and have experience in postdoctoral research in life sciences. We are seeking candidates with outstanding scientific achievements and a strong interest in developing advanced research in the areas of cellular therapy. In addition to a relevant publication record in the fields of virology or hematology or oncology, the successful applicant has specific focus on experimentally driven research and intelligent self-organizing networks.
Main Tasks
Antigens-target discovery and biological assays for validation;
Lentivirus production and manipulation;
Functional characterization of candidate genes and protein by molecular and in vitro approaches;
Hematopoietic cell stimulation, transduction and expansion;
Flow cytometry and immunofluorescence-based immunological characterization of engineered cells;
Perform research on combining Omics data integration;
Drive the research of younger research fellows, including co-advising Ph.D. students;
Contribute the unit efforts on the acquisition of new funding (mainly EU);
The Ideal Candidate should have
PhD degree or equivalent, in Life Sciences: molecular biology, biology, biochemistry, biomedicine, bioinformatics, biophysics, physics, or similar and adequate post-doctoral experience;
Evidence of experience in the preparation and management of National and European Projects;
Evidence of supervision of PhD and Master students;
Research experience/track record in the field of cellular therapy
Time management, planning, and development skills;
Accuracy, flexibility, proactivity, and goal orientation;
Teamwork approach, good communication and relational skills;
Fluent in English (both written and oral)
Additional requirements
Experience in proposing new research lines and driving the research activity of younger research fellows, including co-advising Ph.D. students;
Experience as participant-coordinator of EU-funded Research and Innovation projects, or industry-funded projects
Employment
Type of contract: Fixed Term Contract
Work hours: full time
Gross annual salary:  € 27.000 – € 36.000, depending on technical background and expertise in the field
Start date: March 2019
Duration contract: 24 months
Workplace: Padova (Italy)
Benefits: flexi-time, internal car park, welcome office support, public transports, grant office, free training courses and seminars
Application
Candidates are required to submit their applications by e-mail to
including the following attachments (.pdf format):
Detailed CV, including the list of publications, and a list of the 5 more relevant publications (published) and the names of at least one referee
Cover Letter indicating why the candidate is suitable for this position.
Description of 1-3 most important scientific achievements (max. 2 pages)
This position is subject to budget approval.
Application deadline: 15th February, 2019
Available n. 1 post doc position "Assegno di tipo A" whitin the project "Development of innovative preclinical tools for an effective therapeutic strategy in pediatric acute myeloid leukemia" to be carried out at the Istituto di Ricerca Pediatrica and Dipartimento di Salute della Donna e del Bambino – Università di Padova, under the supervision of dr. Martina Pigazzi.
For further informations please contact:
Martina Pigazzi
IRP – Istituto di Ricerca Pediatrica Città della Speranza
Tel. +39 049 8215483
e-mail: martina.pigazzi@unipd.it