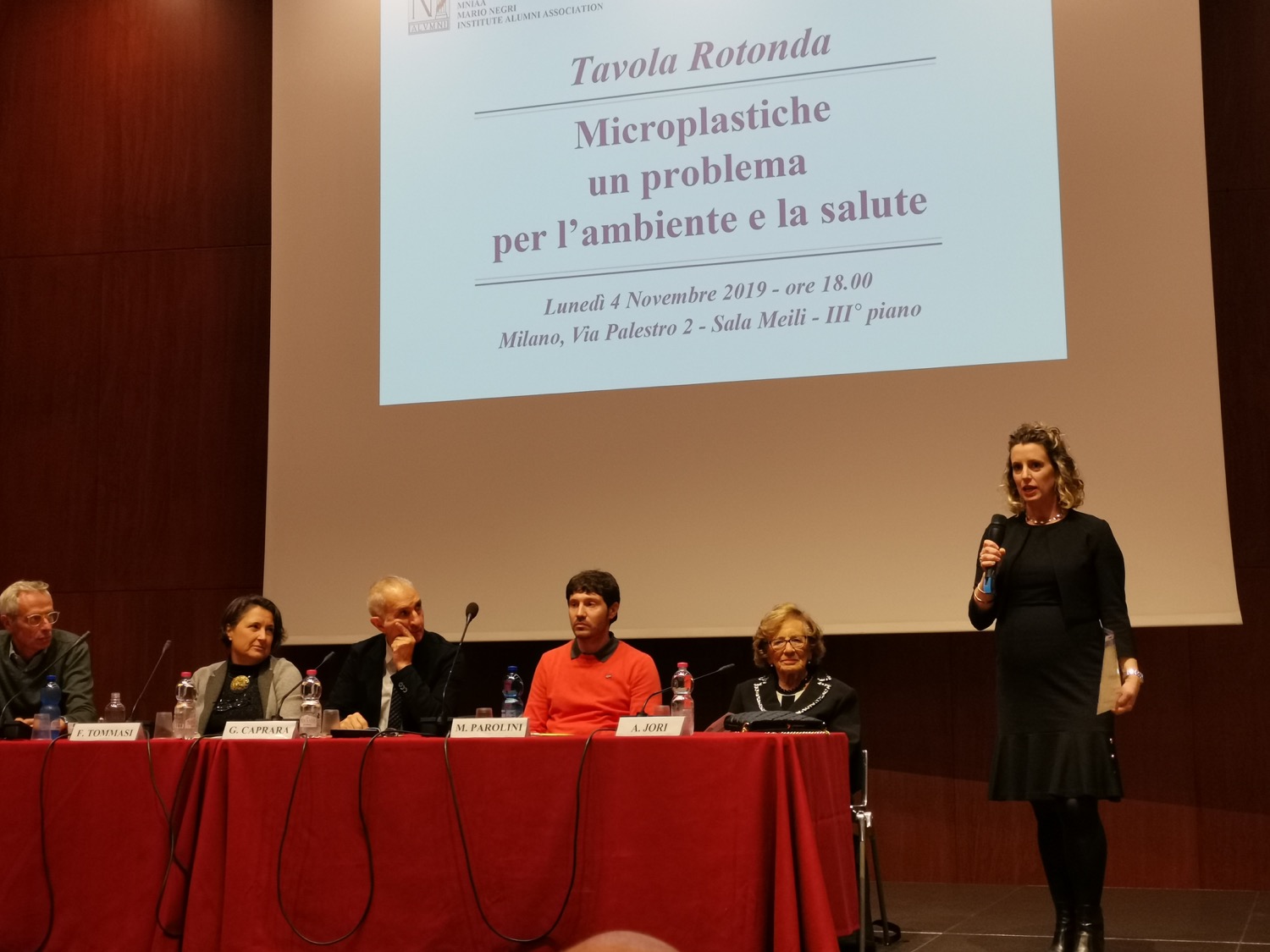 Un premio per aver svolto e pubblicato una ricerca preclinica innovativa sulla leucemia mieloide acuta nel bambino. È quello vinto dalla dott.ssa Claudia Tregnago che si è aggiudicata il MNIAA 2018, il riconoscimento promosso dalla Mario Negri Institute Alumni Association e finanziato da un socio con 2.500 euro per ricordare e onorare la memoria del Cav. Luigi Noseda. La consegna dell'attestato, da parte della presidente Prof.ssa Armanda Jori, è avvenuta pochi giorni fa in occasione della tavola rotonda incentrata sul tema "Microplastiche: un problema per l'ambiente e la salute", svoltasi a Milano.
L'iniziativa si è aperta con una breve presentazione dello studio condotto dalla dott.ssa Tregnago, ricercatrice under 35 del Laboratorio di genetica molecolare di IRP, coordinato dalla dott.ssa Martina Pigazzi.
Il lavoro illustrato titola "Epigenetic heterogeneity affects the risk of relapse in children with t(8;21) RUNX1-RUNX1T1-rearranged AML" ed è stato pubblicato lo scorso anno nella rivista scientifica "Leukemia", a primo nome Zampini Matteo e Tregnago Claudia.
I ricercatori hanno studiato una coorte di pazienti pediatrici affetti da leucemia mieloide acuta che presentano la traslocazione cromosomica detta t(8;21). Quest'ultima, pur rappresentando un fattore prognostico positivo, è la causa del 30% dei casi di recidiva della malattia (percentuale paragonabile ai pazienti classificati ad alto rischio).
Analizzando il metiloma, trascrittoma e proteoma dei pazienti alla diagnosi, si è cercato di individuare ulteriori aspetti biologici che differenziano i pazienti che ricadono da quelli che non ricadono. Ciò ha portato all'identificazione di una via di segnale, coordinata dalla proteina RHOB, che media la resistenza ai farmaci e, di conseguenza, protegge alcune cellule leucemiche dalla chemioterapia, dando origine alla recidiva.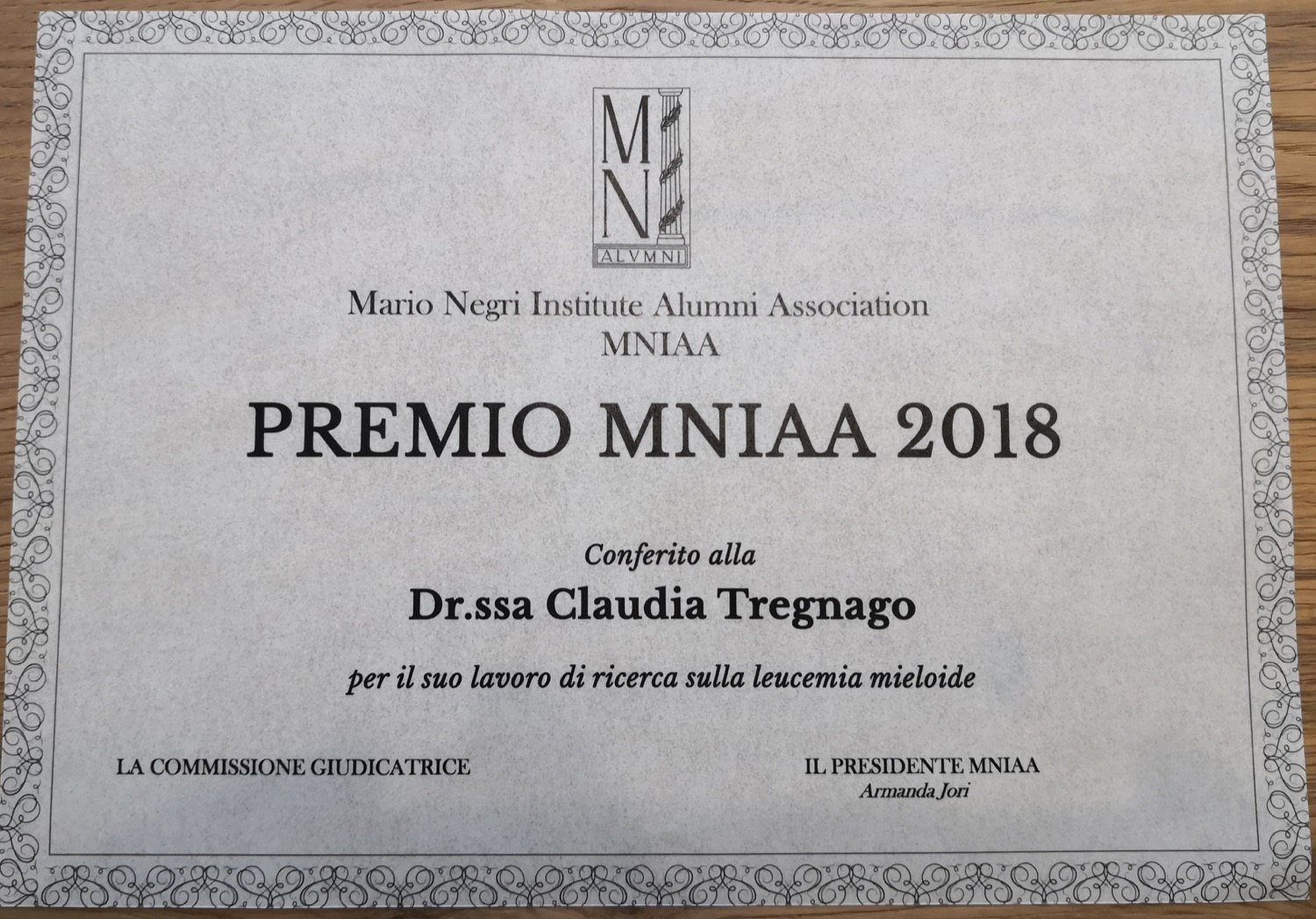 "Questa nuova scoperta potrà migliorare la stratificazione dei pazienti in diverse classi di rischio e apre la strada allo sviluppo di nuovi farmaci volti a colpire la via di segnale coordinata da RHOB", conclude la dott.ssa Tregnago che, nel ringraziare la MNIAA, commenta: "Sono onorata per questo riconoscimento che premia i numerosi sforzi che il nostro gruppo fa quotidianamente nella sfida sempre più difficile di conoscere al meglio la malattia per poterla colpire con strumenti efficaci e specifici. La speranza è di arrivare al più presto a curare tutti i bambini affetti da leucemia mieloide acuta".
https://www.irpcds.org/wp-content/uploads/2019/11/Tregnago-IRP-CDS-cover.jpg
1048
1500
carmelo
https://www.irpcds.org/wp-content/uploads/2017/11/logo-1.png
carmelo
2019-11-12 14:38:35
2019-11-12 14:39:40
Alla dott.ssa Tregnago il premio MNIAA 2018