Research Area:

Medical Biotechnology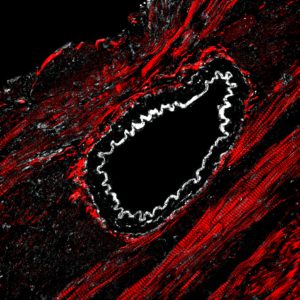 Nanotechnology development and application rely on the intersection of expertise from many science and engineering disciplines. Nanotechnology cancer research goes from exploratory research to technology innovation and involves a broad spectrum of areas such as photonics, nanofabrication, micro and nano engineering, mathematics, computer science, and the physics and materials sciences. The Bio Nano Characterization Group in IRP is structured synergistically to foster integration among the physical, biological, and clinical sciences. Nanotechnology can provide rapid and sensitive detection of cancer-related targets, for example starting from liquid biopsy. In addition to circulating proteins and RNAs, also exosomes can be isolated from all liquid biopsies, including serum, plasma, saliva, urine and cerebrospinal fluid and exhibit peculiar proteic signature, related to the producing cells and to the signaling cascade activated in the target cell, such as cell replication, immune response or angiogenesis. Exosomes nanometric size has so far limited their study by traditional optical methods, fundamentally limited by diffraction. Furthermore, their detection and sorting by protein signature are still not available in a single integrated system. Our imaging and lab-on-chip systems intend to overcome these limitations following innovative technological solutions that conjugate physics with biology and medicine.
Imaging. Nanotechnology will enable the visualization of molecular markers that identify specific stages and types of cancers, allowing clinicians to see cells and molecules undetectable through conventional imaging. Nanoparticles such as quantum dots, which emit light of different colors depending on their size, could enable the simultaneous detection of multiple markers. The photoluminescence signals from antibody-coated quantum dots could be used to screen for certain types of cancer. Different colored quantum dots would be attached to antibodies for cancer biomarkers to allow oncologists to discriminate cancerous and healthy cells by the spectrum of light they see.
Screening. Nanotechnology provides new molecular contrast agents and materials to enable earlier and more accurate initial diagnosis as well as continuous monitoring of cancer patient treatment. As therapeutics advance, it may require the simultaneous detection of several biomarkers to identify a selected cancer treatment. Label free detection with extremely high sensitive detection techniques, as homemade developed lab-on-chip system, allow to perform wide range screening detection of specific cancer markers. A full screening of markers can be performed without long and expensive laboratory pre-treatments.
Our activities cover the design, the fabrication and characterization of nanostructures and nano-objects. The current research interests of the Bio Nano Characterization Group concern the following applications:
the development of biosensor platforms for a variety of biomedical samples (DNA, RNA, proteins, etc.) based on the Surface Plasmon Resonance (SPR). The sensing platforms is combined with microfluidic circuitry to obtain a lab-on-chip device for label free detection of large variety of analytes.
the development and optimization of microscopy techniques for a wide range of applications. The main interests of the group are the characterization of biological samples and the development of super-resolution systems.
Post-doctoral Fellows
Giulia Borile
Michele Massari
Gianluca Ruffato
Erfan Mafakheri
Enrico Gazzola
Pietro Capaldo
PhD Students
Andrea Filippi
Michele Gintoli
Rossi Silvia
Stefano Rossi
Selected Publications
Filippi, A., Dal Sasso, E., Iop, L., Armani, A., Gintoli, M., Sandri, M., Gerosa, G., Romanato, F., Borile, G.. 2018. Multi-modal Label-Free ex-vivo imaging using a dual-wavelength microscope with axial chromatic aberration compensation.
Journal of Biomedical Optics
, in press
Ruffato G, Rossi R, Massari M, Mafakheri E, Capaldo P, Romanato F.. 2017. Design, fabrication and characterization of Computer Generated Holograms for anti-counterfeiting applications using OAM beams as light decoders..
Scientific Reports
, 7(1):18011
Sonato, A; Agostini, M; Ruffato, G; Gazzola,E; Liuni, D; Greco, G; Travagliati, M ; Cecchini, M; Romanato F.. 2016. A surface acoustic wave (SAW)-enhanced grating-coupling phase-interrogation surface plasmon resonance (SPR) microfluidic biosensor.
LAB ON A CHIP
, Volume: 16, Issue: 7, Pages: 1224-1233
Ruffato, G., Massari, M., Romanato, F.. 2016. Diffractive optics for combined spatial-and mode-division demultiplexing of optical vortices: Design, fabrication and optical characterization.
Scientific Reports
, 24760
Meneghello A, Antognoli A, Sonato A, Zacco G, Ruffato G, Cretaio E, Romanato F.. 2014. Label-free efficient and accurate detection of cystic fibrosis causing mutations using an azimuthally rotated GC-SPR platform.
Analytical Chemistry
, 86(23):11773-81
Contact

Corso Stati Uniti, 4
35127 Padova
Phone: +39 049 9640139
Fax: +39 049 9640101
info@irpcds.org